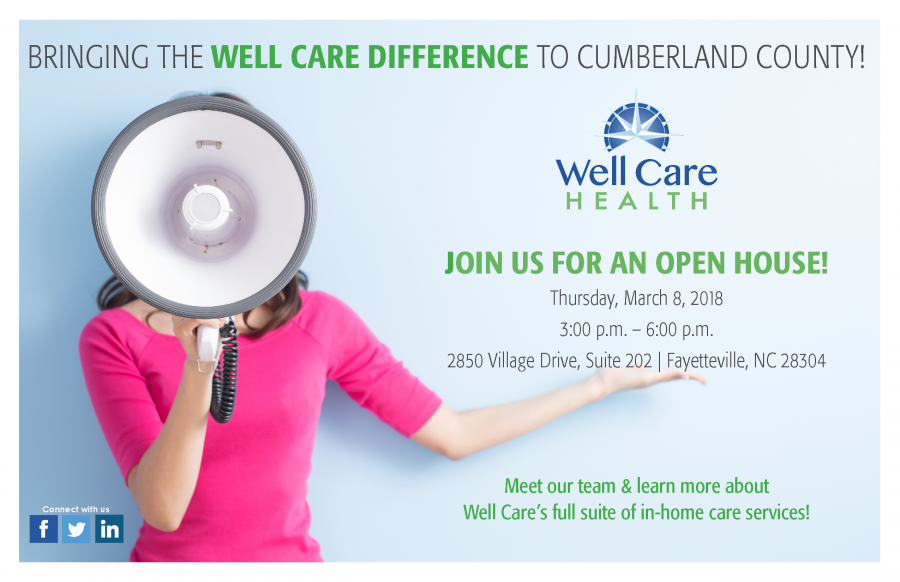 RALEIGH, and FAYETTEVILLE, NC, February 12, 2018 — Well Care Health announced it will host an open house Thursday, March 8, for the Cumberland County community. The event kicks off at 3:00 p.m. with a brief ribbon cutting ceremony at Well Care's new home care office in Fayetteville, located at 2850 Village Drive, Suite 202. The open house will give attendees a first-hand glimpse at Well Care Health's full suite of in-home care services, and the chance to meet current employees.

Clinical professionals including Registered Nurses (RNs), Licensed Practical Nurses (LPNs), and Certified Nursing Assistants (CNAs) are encouraged to attend, as the company continues to add employment opportunities.
Hospital executives, Accountable Care Organizations (ACOs), case managers, medical practices, and post-acute care organizations are all encouraged to attend and learn more about Well Care's services.
Well Care Health now brings a complete scope of in-home care to the greater Fayetteville region. The company's home health services include skilled nursing, physical therapy, occupational therapy, speech therapy, medical social work, and home health aide services. Additional services include private duty nursing, personal care assistance, and companionship.
Cumberland County is the fifth largest county in the Tar Heel state and home to more than 4,000 home health care patients, according to the State Medical Facilities Plan. Approximately nine percent of the population is over the age of 65. Well Care Health has been a leading, in-home care provider in North Carolina for more than 30 years, and brings a holistic approach to patient care.
Well Care Home Health branches across North Carolina earned JCAHO accreditation and Deemed Status by the Joint Commission in October 2017, granting each agency the official stamp of approval in high quality patient care. Each home health branch was also named a Top Agency of the 2017 HomeCare Elite®, a recognition of the top-performing home health agencies in the United States. Additionally, Well Care's Triangle and Wilmington branches have consistently received a 5-star rating by the Centers for Medicare and Medicaid Services (CMS), placing them among the top home health agencies in the nation. Well Care Health plans to grow in North Carolina and across state lines in the future.
####
For new patient inquiries, please contact Well Care's Intake dept:
888-815-5310
intake@wellcarehealth.com

Media Contact:
Jennifer Cascio
910-612-0386
jcascio@wellcarehealth.com