"Caregivers are superheroes in comfortable clothes" -Anonymous
"Caregivers are superheroes in comfortable clothes" -Anonymous
Meet Laura Alfieri, Certified Nursing Assistant
Meet Laura Alfieri, Certified Nursing Assistant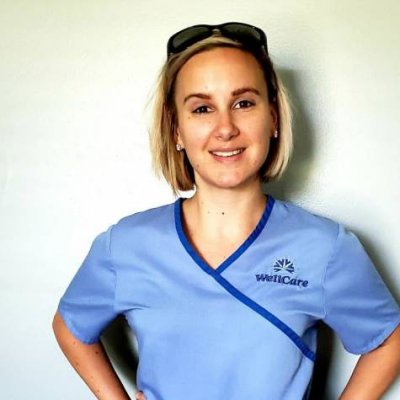 By:  Well Care, LLC Editor
Laura Alfieri recognizes the meaningful impact she has on her patients' lives, but she doesn't take it for granted.  Admired by many for her warm and humbling demeanor, it's Laura's work ethic and passion for serving others that make her a true inspiration.
Here is Laura's story:
Hometown:  Wilmington, NC
Job Title:  Certified Nursing Assistant (Well Care Home Care)
Time at Well Care:  6 years
Q. Why did you choose to become a CNA?
A. I chose to become a CNA because I felt I needed to do my part in helping the elderly community.
Q. What does being a CNA mean to you?
A. Being a CNA is such a big part of me. It's who I am. It's a privilege to work with Alzheimer's and Dementia patients in a way that impacts their daily lives.
Q. What is your favorite patient memory?
A. I had to take one of my older patients to the hospital. While he was getting his IV, I held his hand; and we talked about his memories with his wife of 50 years. It was a little moment but one I'll never forget.
Q. What do you enjoy most about your job and why?
A. I enjoy seeing my patients' faces and how thankful they are for me. It's the most humbling and rewarding feeling.
Q. What's the best advice you would give to fellow CNAs?
A. The best advice I can give to other CNAs is it to be patient, always be kind, and most importantly, be empathetic. Be able to put yourself in these patients' shoes. Give it your all — every day!